Are you a coffee drinker? Do you live on caffeine? I know I sure do! What's funny is that I actually used to loathe coffee! The smell used to make me gag. My caffeine of choice in college was Moutain Dew! I used to drink it on the way to school at 8 am and then drink it throughout the day! It wasn't until I was in my 30s that I started to drink coffee. And now here I am, in my 40s and I drink at least 4 cups a day! That is why of course I must feature coffee in our Holiday Gift Guide!!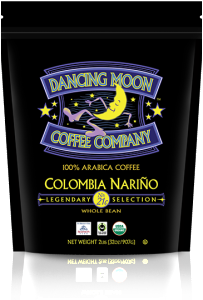 There is just something about the aroma of fresh ground coffee beans! That is why I am proud to introduce Dancing Moon Coffee Company!
Dancing Moon as sought out the best coffee regions in the world! These are the Legendary Coffees of Dancing Moon! Dancing Moon's Mission is clear:
Their legendary coffees are:
For our review, we received the Colombia Narino and Krups Coffee Grinder.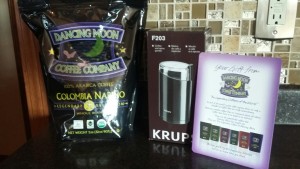 The flavor was very smooth. There wasn't a bitter after taste at all! It was delicious! We are hosting a chili party next week and several of our friends are coffee drinkers so I plan to have the coffee available for those who would like to try it!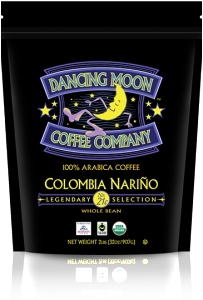 Dancing Moon Coffee Company's Columbia Narino is grown at altitudes reaching up to over 7,000 feet on the perilously steep slopes of Mount Galeras — one of the world's most active volcanoes. This marriage of extremely high altitude and a unique mineral-rich soil that's refreshed by frequent volcanic eruptions helps to create flavors that other coffees cannot even begin to imitate.For generations, coffee connoisseurs have treasured Nariño as one of the best coffees in the world. In fact, this legendary Colombian coffee may be as close to heaven as a coffee can get.