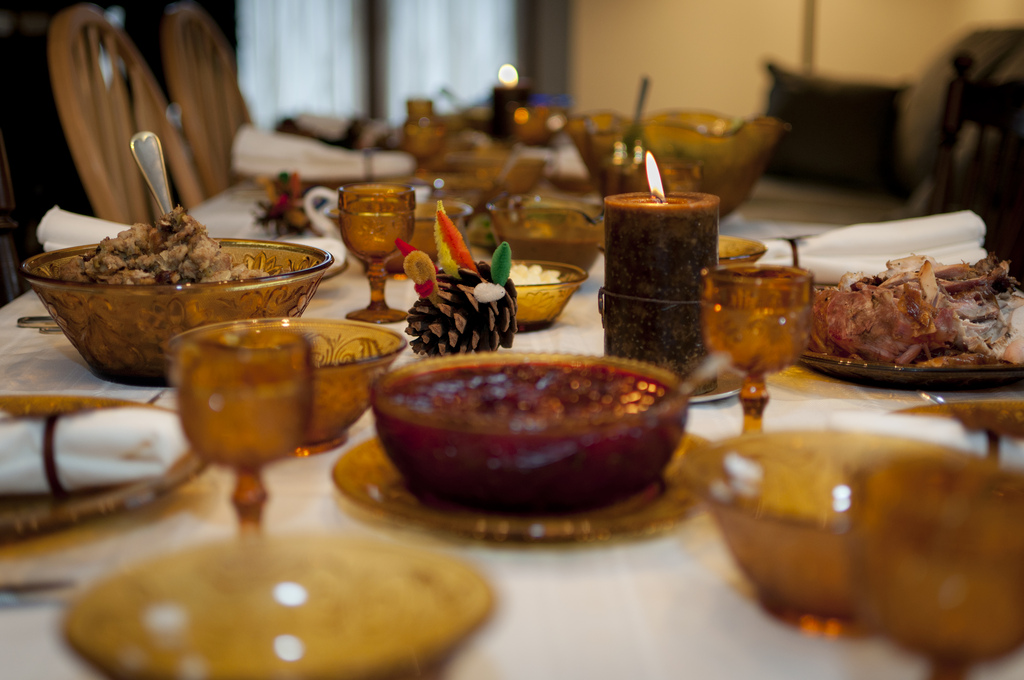 For years you've enjoyed the traditional Thanksgiving feast of turkey with gravy, mashed potatoes and stuffing and other calorie-rich fixings, but you want to try something different this holiday.
Preparing a Mediterranean-themed meal that emphasizes lots of vegetables, fruits, nuts, legumes, whole grains, seafood and seasonings is a great option, chefs, nutritionists and dietitians say. Such a meal is typically healthier than traditional Thanksgiving fare; the Mediterranean diet is linked to a slew of health benefits, including weight loss, a decrease in overall mortality and a reduced risk of death from cardiovascular disease. A study published in April in the European Heart Journal of 15,482 patients with coronary disease, for example, found the eating style is associated with a lower risk of death from heart disease, heart attacks and strokes.
Fortunately, the Mediterranean diet isn't just healthy: It's tasty, too. "It's a big misconception that healthy food doesn't taste good," says Anna King, a clinical dietitian at Indiana University Health. "If you season dishes with herbs and spices and make just a few changes here and there, you can have a very healthy meal that is also delicious."
Such a dinner wouldn't be difficult to prepare, King and other culinary experts say. Here are some suggested dishes and recipe ideas to produce a delicious and healthy Thanksgiving meal with a Mediterranean theme.
A salad is a healthy way to kick off the meal, King says. She suggests one featuring dark leaf lettuce, which is high in vitamins, including vitamins A and C, mixed with carrots and roasted squash, topped with walnuts, pecans and pine nuts for a crunchy texture, and cranberries and raisins for sweetness. Top it with an olive oil-based dressing rather than a creamy selection, which would be higher in fat and calories.
Roast turkey is the star of a typical Thanksgiving dinner – and it can be the main event of a Mediterranean meal, with some modifications, King says. Instead of basting the bird in the traditional base of butter and flour, season it with herbs like rosemary, thyme, garlicand sage. You could also top the turkey with pumpkin seeds and roasted walnuts.
Rather than splashing the turkey with the usual gravy, which customarily consists of a mixture of fat and flour, strain the liquid from the roasting pan of the turkey, skim off the fat at the top and substitute that for gravy. "The juice at the bottom of the roasting pan will have all of the good flavors from the turkey, especially if you're seasoning your turkey with herbs and spices, without the fat of gravy," King says. You could add low-sodium chicken broth to the juice for additional flavor.
As a Mediterranean alternative to the traditional roast bird, you could instead prepare turkey tagine, a Moroccan stew usually made with chicken, olive oil, dried apricots and chickpeas, says Monica Sudakov, the owner of the Chestnut Street Inn in Sheffield, Illinois. The dish is named after the earthenware pot used to prepare the meal, and can include a variety of healthy ingredients, such as chopped tomatoes, slices of mint, prunes and artichokes.
Sudakov suggests seasoning either turkey or chicken tagine with rosemary, thyme, ginger and saffron. Such a main course would be "light and delicious, with a lot of textures and flavors," Sudakov says.
The choices for the main course are not limited to poultry. You could also prepare roasted salmon or trout seasoned with sliced lemons and herbs. These dishes contain healthy omega-3 fatty acids, which are good for the heart. A dish of roasted fish would be "just as delicious as your traditional main course," King says.
Every Thanksgiving meal needs a variety of side dishes. There are many healthy and tasty Mediterranean-themed alternatives to such traditional sides as mashed potatoes or green beans, dishes often prepared with generous amounts of butter that are therefore high in fat; macaroni and cheese, which is typically high in cholesterol; commercial cranberry sauce, which tends to be high in sugar; and stuffing made with white bread, which is high in carbohydrates and starch.
Seasonal grilled vegetables make a delicious side dish and are easy to prepare, says Dr. Adrienne Youdim, medical director of the Center for Weight Loss and Nutrition at the Lasky Clinic in Beverly Hills, California. Artichokes, asparagus, zucchini, squash and eggplant can all be seasoned with thyme, rosemary and turmeric. The preparation is simple and easy: Buy a good grill pan (if you don't already have one) for about $40, spray it with olive oil and grill the vegetables for three to five minutes, Youdim says.
Instead of traditional stuffing prepared with bread, you can make one using healthy grains like quinoa and barley, mixed with pine nuts, walnuts, cranberries and figs, Youdim says. Or, you could make a stuffing using whole-wheat bread and mix in onions, garlic, celery and shallots, says Tracy Lesht, a registered dietitian based in New York City. Or, for a fruity flavor, substitute apples, strawberries and raisins for the vegetables.
As an alternative to mashed potatoes, try a mashed cauliflower dish instead, Lesht suggests. Cook the vegetable in olive oil rather than the butter that is typically used for mashed potatoes, and add low-fat yogurt or garlic.
Another candidate for a healthy side dish: a nice soup. Fresh pumpkin soup seasoned with paprika and cumin is tasty and healthy, Sudakov says.
Many traditional Thanksgiving feasts include pecan, pumpkin or apple pie as dessert choices. Healthy substitutes are easy to put together and just as flavorful. A bowl of mixed berries, including blueberries, raspberries and strawberries, mixed with diced mint and topped with a small amount of fresh cream makes for a tasty and refreshing dessert, Youdim says.
Baked pears seasoned with cinnamon are another flavorful dessert choice. "When you bake a pear, it really brings out its sweetness and enhances the flavor," she says.
Consuming fresh Mediterranean dishes is an important component of having a healthy Thanksgiving meal, but it's helpful to have an eating strategy to avoid overeating, says Maria Elena Rodriguez, registered dietitian and certified diabetes educator at the Diabetes Alliance, the Mount Sinai Health System in New York City. "Patients ask me if they can overindulge one day and worry about it the next," Rodriguez says. "I say we shouldn't use the holidays as an excuse to gain weight or overindulge."
To avoid consuming too much at Thanksgiving, "eat more slowly, eat your salad and vegetables first, and if you want seconds, give yourself about 20 minutes," Rodriguez says. "If you still want more food, go for extra vegetables."