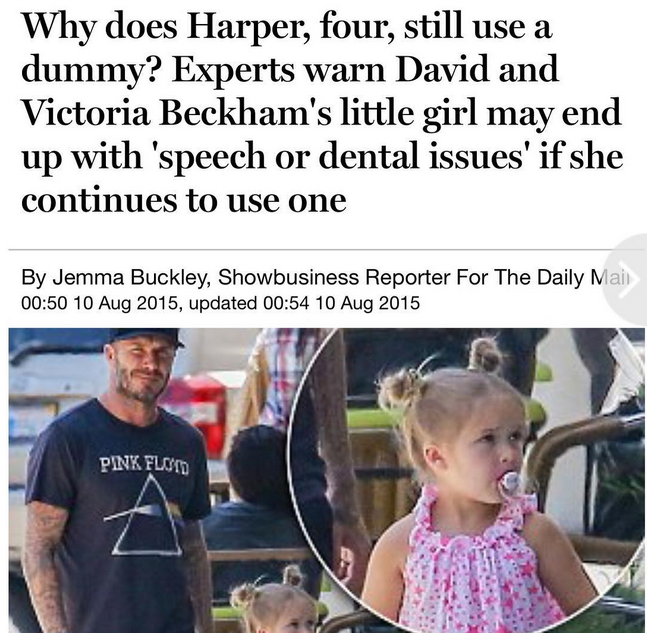 Soccer legend David Beckham defended his daughter Harper after a Daily Mail article published photos of the four-year-old with a pacifier in her mouth. The Mail's speculated that the child would suffer in "speech" or have "dental issues.""Everybody who has children knows that when they aren't feeling well or have a fever you do what comforts them best and most of the time it's a pacifier," he wrote in an Instagram post, "so those who criticize think twice about what you say about other people's children because actually you have no right to criticize me as a parent."
Most experts agree that up to age four, an occasional usage of a pacifier is perfectly normal. They also recommend to try other ways of comforting a fussy child first.  All experts agree, never dip the pacifier in honey or any sugary solution that could damage teeth.
As soccer superstar David Beckham is playing defense in social media standing up to critics who are shaming him for allowing his daughter to have what the British call a "dummy," the subject has piqued worldwide interest because of the strong opinions so many have about this issue. Some kids spit out the "binky" at a few months, and others cling until preschool begins. And everyone thinks they are right.
Beckham insists he knows how to comfort his child when she isn't feeling well and the criticism is not justified. Dr. Gail Gross, a Houston-based psychologist, Ph.D., Ed.D., M.Ed., who specializes in family and child development says Beckham is absolutely right.
Dr. Gross says toddlers, like babies, remain "invested both socially and personally in an oral zone of sensation. These oral drives, if not satisfied, intensify until the child is both frustrated and anxious." And as the child grows, those frustrations could manifest in negative ways, like eating too much or picking up smoking.
In a penned blog titled, "Why Toddlers put things in their mouths," she says:
Since much of the child's gratification is found in eating, sucking and putting things into the mouth, this region becomes the focus for sensory and motor activities. In fact, Piaget called this stage the sensorimotor stage.

Of course, this period of growth and development does not happen in a straight line, but rather in a zig-zag or switchback fashion. Like Dr. Doolittle's push-pull toy, toddlers, leap forward and then regress back as they learn to navigate both their personal and social environment.
At the very least, Dr. Gross recommends all parents should know to follow these guidelines from the American Academy of Pediatrics:
Look for a one-piece model with a soft nipple (some two-piece pacifiers can break apart).
The shield should be made of firm plastic with air holes, and should measure at least 1 inch across so baby can't swallow it.
Purchase dishwasher-safe pacifiers and clean them this way frequently until baby is 6 months; after this, wash pacifiers regularly with hot soap and water.
Pacifiers come in two sizes: 0-6 months and 6 months and above; make sure pacifiers are the correct size.
To prevent the risk of strangulation, never tie a pacifier around your baby's hand, neck, or crib railing.
Never use a bottle nipple and ring in place of a pacifier; the nipple can separate from the ring and pose a choking hazard.
Inspect pacifiers regularly for damage and replace them if the rubber has changed color or torn.
Always try to remove the pacifier in "zero-distress" situations, when the child is home, happy, and playing.
Original Post - http://www.monstersandcritics.com/child-expert-sides-with-david-beckham-in-binky-brouhaha/