American Society of Andrology
/
Dr. Paul Turek
Dr. Turek in the news
August 2, 2018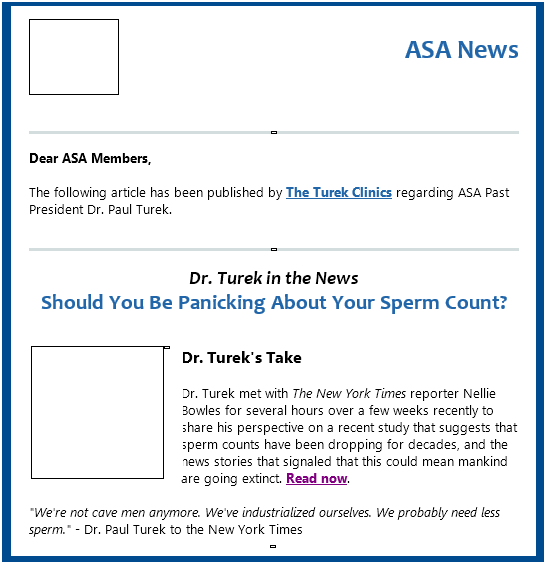 Arlene Howard is very professional, kind, and a joy to be around. No wonder her clients adore her so! Thanks for everything!
Brandy Nelson
I have known Arlene personally and professionally for over 25 years. In all that time I can say without a doubt she takes better care of her clients than any other public relations person I have known. Her communication skills are only surpassed by her persistence to get the job done – and done right. She's the person you want on your team in a time of crisis as well as the person you want in your corner as a friend.

Lee Iacocca
Author & former President of Ford Motor Company
I've worked with Arlene Howard for years. In the fast-paced, cut-throat world of live morning television, Arlene stood out among the hundreds of publicists emailing and calling in pitches to me. Why? Because she does not pitch generically. She knows her client, she knows her media outlet and she sends pitches that are personally crafted. I am in awe of her energy, perseverance, persistence and genuine love of helping clients get the exposure they deserve. She is a creative mind and always brainstorming who and how to put her clients on the map. Any business looking for an A+ publicist would be lucky to get Arlene and her team behind them.

Nicole Prentice Williams
President, Prentice Williams Media