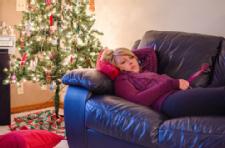 Most people hitting the road this holiday season will be heading to family gatherings. Which means that, for many, time away from home won't feel much like a vacation. According to an American Psychological Association poll, 1 in every 4 adults reports feeling "extreme stress" during the holidays.
"It's pretty clear that family gatherings are a major source of anxiety at holiday time," says Michelene Wasil, a licensed marriage and family therapist. "I've found that in my personal experience, and I hear it from many of my clients."
To make holiday travel feel more like an actual holiday, here's what Wasil and other experts suggest:
Set Boundaries Well Before You Arrive
"It's a good idea to talk about the things you're not supposed to talk about before everyone arrives," advises Dr. Gail Saltz, a best-selling author and associate professor of psychiatry at New York Presbyterian Hospital Weill-Cornell School of Medicine. "If there are conflicts in the family-sibling rivalries, a brewing fight, old wounds-make a phone call and say 'Let's just not talk about this topic when we get together.' It's better to be upfront."
"Holidays are notoriously not a good time to hash something out," continues Saltz. "People tend to regress at the holidays to what their original family role is. That can resurrect, not consciously, sibling rivalries and parent-child tensions."
Radio host Dr. Gail Gross, PhD, Ed.D. agrees, but suggests that the participants do the "boundary call" over Facetime or Skype so that they can see body language, which is usually reassuring. "I tell my family 'We're suspending all judgments and expectations. Leave your troubles at the door. This is a free zone at holiday time'".
Decide on a budget for the get together, in advance
"Money is a very delicate subject so it's important that families are honest about what's comfortable and what isn't," advises psychologist Jeanette Raymond, PhD. "Objections about others paying for one and not another have to be ironed out. Money is often used to buy love, or keep kids quiet. If 'who is paying for what' is spelled out in the first pow-wows, it won't be a problem later on. People can choose what activities they want to fund, what they will bring and what they want to contribute in other ways."
Limit together time
"Oftentimes, conflict can be reduced or avoided if the stay is around or less than four days," says Wasil. "Depending on the level of dysfunction or discomfort, I recommend staying at a hotel near family (even with a close friend, or really, anyplace other than the family home if that is a source of pain). This can lessen the expectations and give the client freedom to escape a potentially toxic situation."
If a shorter trip isn't in the cards, either because traveling at holiday time is so pricey or because of family expectations, the experts recommend visiting nearby friends, taking a day pass at the gym, and doing other activities that get you away from the "family fishbowl" for a few hours each day.