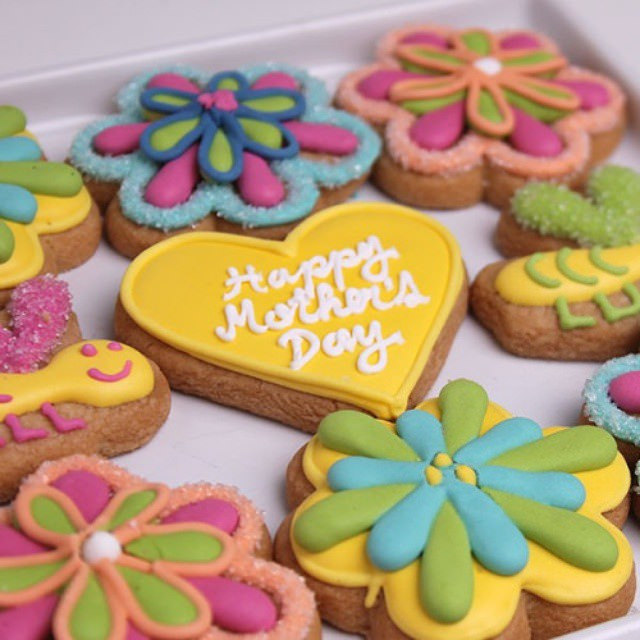 If you haven't chosen a gift for your mom yet, don't panic. This list takes you from A-Z with a lot of ideas for every time of mom- including yours!
A is for Allergies: If mom is coughing, sniffling and sneezing this time of year, let her know that you both hear and care. I asked my mom to test out  Dyson's Pure Hot + Cool Link purifier which not only purifies 99.97% of the pollutants it detects, but also acts as a cooling system in the summer and heater in colder months. Mom reports back that she sleeps better at night, and when set to 4, her Dyson (which she nicknamed R2D2) acts as a gentle white noise machine as well. We were both impressed with the blade-free technology that means you have breezes without blades or the dust that can accumulate on them.
B is for Bracelets: Treat mom to an arm party with either one cute bracelets or a stack that she can wear with anything from jeans to dressier attire. Heet Rock AG Crystal Black Ash is just the slightest bit edgy and made with Swarovski crystals.
C is for Candle: Who doesn't love a fabulous scented candle? Bath and Body Works Love Mom candle has a heavenly fragrance blend of Southern Pecans, Sparkling Cinnamon Sugar & Warm Caramel.
D is for DIY: Sure you can buy your mother another card, but with a Cricut Explore Air 2 you can make her a gorgeous handmade card or wall hanging using over 100 materials – everything from cardstock, vinyl and iron-on to thicker materials like leather. Or better yet, you can work on a project together. And if you or she are new to the whole DIY thing, there are over 3,000 ready-to-make projects or make quick cuts in their extensive image library. (Thanks to the lovely folks at Cricut, I'm just getting started with my own Air 2 starter set and am beyond excited. I'll keep you posted on how it goes).
E is for Electric kettle: Though hugely popular in much of the world (Great Britain and Canada come to mind), they've been slower to catch on here in the U.S. There is much to love about BLACK+DECKER's Electric Kettle which boils water so quickly and efficiently, it almost seems like more of a pain to try to head to the microwave. It's also so beautifully and cleverly designed, with a swivel base and wrap around cord, that instead of adding to kitchen clutter, it actually becomes a design element. My mom gave it the thumbs up, and she hates both clutter and any new tchotchkes.
F is for Fresh flowers: I'm a sucker for fresh flowers and love the trend toward more responsible growing and producing. The Bouqs Company produce gorgeous bouquets and arrangements using only sustainably farmed, eco-friendly flowers. They also have new arrangements for Mother's Day including Fearless, Delightful and Divine. Use code MOM15 for 15% off the Mother's Day collection from May 8-11. Want to remind mom how much you love her on a monthly basis? 1800flowers recently launched #Nowblooming, a monthly floral gift selection which last month featured Margarita Tulips, which is a double tulip meaning it has twice the amount of petals. You can also mix things up by treating mom to a book about flowers instead Exquisite Book of Paper Flower Transformations   has a wonderful collection of paper flower projects that a mom of young ones will especially appreciate on rainy days. Handpicked: Simple, Sustainable, and Seasonal Flower Arrangements has 35 simple to somewhat complicated arrangement instructions from a florist.
G is for Grub: Not everyone can be with their mom on Mother's Day, but that doesn't mean you can't treat her to dinner from her fave restaurant. Send her a gift certificate from Grubhub or Seamless or better yet, order her favorite meal and one for yourself and Skype or Facetime a meal together, because there's no one right way to celebrate together on Mother's Day
H is for High-tech mindfulness: Yes. That can actually be a thing. Earlier this year I spoke with Wacom's Sr. Director of Global Market Strategy Rick Peterson about the constant struggle between staying connected with technology and not losing yourself. He suggested that the hybrid tablet-like Bamboo smartpad which allows you to take notes and then upload them to your favorite program, as a great bridge between being connected and tuning out when necessary. "Use a smart pad to settle yourself and allow you to focus your thinking and not get lost in that moment that takes you away." What a great way to allow your own mother to jot down notes or thoughts, sketches or random snippets of ideas without losing that perfect moment of concentration. Check out Bamboo's tips for having a more mindful day.
I is for I believe in you: Mom was always there for you when you were little, and now it's time to remind her that you're her No. 1 supporter. Whether she's running her first marathon or committing to daily walk. Liberal Leggings has a fun and empowering new line of leggings with messages like "Nevertheless She Persisted," to spur mom on in her political beliefs or daily commitment to walking.
J is for Jewelry Box: It's entirely possible that your mother has all the trinkets she could ever want, so maybe the time is right for a jewelry box instead. Oyobox makes highly lacquered minimalist boxes for jewelry or even eyeglasses while Umbra has a variety of cleverly designed boxes made to hide or show off jewelry depending on her design aesthetic.
K is for Kai: Kai rose perfume oil is the first new scent release from cult favorite brand Kai in 18 years. So skip the roses and treat your momma to a greener version of classic rose that also includes a blend of gardenia wrapped in white exotics layered with rose absolute. Or just treat yourself. You totally deserve it.
L is for fine Leather: Maybe your sister has been schlepping around a diaper bag for too many years or she refuses to give up her favorite pocketbook, but a bright platinum or metallic leather crossbody bag from CoFi will be sure to change her mind. Known for their luxe metallic & peacock prints, CoFi handbags & shoes can be found in over 100 boutiques across the country. The leather patterns and colors are on trend with classic touches. A new brand obsession for me, and I'm guessing for the mom in your life.
M is for Mom and me: Remember how cute you looked when you wore matching outfits when you were little? Giorgio Beverly Hills fragrance Giorgio Beverly Hills and Giorgio Beverly Hills Glam lets you treat mom to an updated version of the classic scent and an updated version for you…or vice versa!
N is for Necking: Show your best friend you've been paying attention to her as she kvetched about her jowls or wrinkles. Neckperfect complex is a brand-new treatment to help sculpt the neck area and a fave of January Jones, Kadee Strickland, Behati Prinsloo, Lea Michele and Rosie Huntington Whitley to name a few.
O is for Organized: Don't let your sister-in-law go through life with a George Costanza inspired overstuffed wallet. The Hammitt 210 West wallet has room for credit or membership cards and a zipper section for cash or change. If she's going for a more serious purge, consider treating her to a copy of Organized Enough which is less Marie Kondo and more, update your condo by getting rid of stuff. Or you can splurge on a Polaroid Snap Touch which she can use to organize her closet–she can simply snap pics of her winter clothes or shoes and stick on the instantly printed out tiny stickers to keep everything organized until it's next needed.
P is for power on the go: If your mother's smartphone battery keeps dying, she totally needs a purse-sized charger. Flipstick by TYLT, has a built-in USB cable, which provides up to one full charge per use.
Q is for queue: Surprise mom by updating her streaming experience. The Roku – Ultra Streaming Media Player adds an overall level of 4K Ultra HD compatibility, so she can watch The Sopranos or The Crown to full glorious effect. Create a queue of shows the two of you can watch together and then commit to some binging with mom time to make it the gift that keeps on giving.
R is for Radiant: Diamonds may be a girl's best friend, but Moissanite, created by Charles & Colvard, is a naturally occurring and lab-grown mineral made up of silicon carbide that is nearly equally sparkly and much more affordable. It's also sustainable and great for anyone concerned with where their gems originate. A great gift for a first-time mom.
S is for State: Or slate, depending on your preference. If your sister-in-law is obsessed with maps and keeps mentioning how homesick she is for her hometown, she'll love UncommonGreen 12″x12″ slate etched with her home state's borders and roadways. Perfect as a cheeseboard or just a decorative addition to the kitchen or table.
T is for Tote: For years, I've been looking for the perfect leather travel tote, and I'm pretty sure I found it in Patricia Nash's Benevenuto convertible style. Made of luxe, slightly rough around the edges Italian leather, it's great for travel or a day trip, and the antique brass hardware adds a bit of vintage appeal. Another great option for your jetsetting mother is Transit30 Duffle which folds up small enough to fit into the palm of your hand and opens up to a full sized duffle – perfect for bringing home all those extras you bought on your trip.
U is for unforgettable: If your aunt who is more like a mother to you is trying to remember to take more steps but doesn't quite like traditional movement trackers, Martian Hybrid smartwatches will be totally up her alley. Most look like traditional watches with classic faces or leather bands. Smart notifications are subtle and in fact hidden just under the six o'clock position; a discreet blue light visible to her alone will alert or update her depending on her preference. Best yet, each one has a 14-day battery use for notification (and sleep duration monitoring).
V is for Va va voom: Treat your mother to some beauty products to help her feel as beautiful on the outside as she is on the inside. IT Cosmetics Je Ne Sais Quoi Lip Treatment is now available in a new rose shade and contains essential butters and oils, hyaluronic filling spheres and antioxidants. Bye Bye Pores Blush is infused with optical-blurring pigments which instantly diffuse the look of pores and discoloration while adding a youthful glow. Mom doesn't have to wear Millennial Pink to look gorgeous!
W is for Wristlet: Today's wallets are made to hold more than some extra cash. The Brilliant Dasher by Be Brilliant has enough room for a smartphone, along with everything else needed for a lunch run or trip to the market. The fact that the company is founded by two smart women in business will remind Mom that she's raised one smart cookie.
X is for XM: Sometimes you can become so inundated with gift ideas that you forget the basics. Why not treat your mother (or me) to a subscription to SiriusXM satellite radio? It's a no-brainer, she can choose her tunes and channel and always love what she's listening to.
Y is for You: Give mom (and yourself) the gift of spending time together. Mend fences if you've been fighting, or stop looking at Facebook and pay attention to her if you're there. You don't have to spend a lot on mom to make her feel loved. The next time that she asks what you're doing, consider telling her that you're looking forward to simply hanging out together.
Z is for catching more Zzzs: Treat mom to the ultimate gift of more beauty sleep. Sapira by Leesa is a new luxury hybrid mattress that uses only 100% American made high quality materials. So if your mom has been hesitant to try out a foam mattress, this one offers slightly more support at the core than most. My own mom tested this one out as well, and loved the fact that it came delivered in a box. Unlike some other pure foam mattresses, this one unrolled more easily and almost immediately sprang into shape. It's also got an incredibly gorgeous design, more like a high-end mattress than one that comes rolled up in layers of plastic. Overall, mom gave this one an emphatic rave review, but it took her almost two weeks to get used to the combination of softer foam and more supportive springs. And in case you're wondering, this mattress was supposed to be for the guest room, but mom loved it so much it's on her bed now!