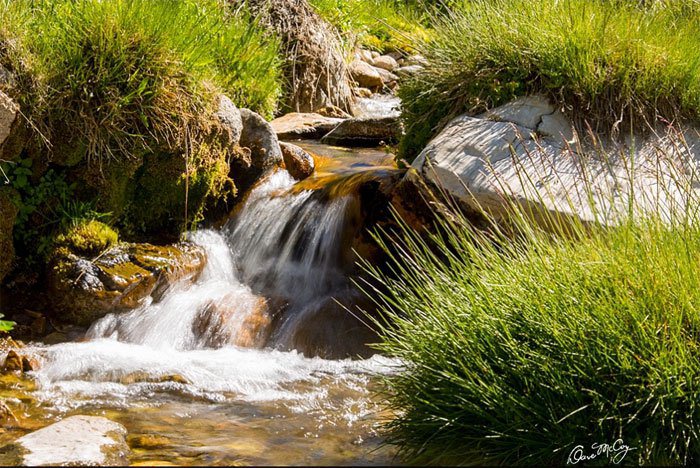 Outdoors and nature aficionados, skiers, hikers, mountain climbers and bikers in California owe a debt of gratitude to one man who had an idea of a place where families could thrive, prosper, play and work hard.  This coming June 26 & 27, there's a must-experience, affordable fun festival of food, wine and fellowship scheduled to honor American visionary Dave McCoy and to celebrate the community he helped build.
Ski resort pioneer, entrepreneur Dave McCoy is a fixture in Bishop, California where he now lives, but it was a lifetime he spent building up the world class ski resort at Mammoth Mountain that is his legacy. In 1938, McCoy, then a hydrologist with the Los Angeles Department of Water and Power, devised a rope-tow sideline business on weekends at the Eastern Sierra foothills near his home in Bishop. The end game was simply an economical way he and his friends could go skiing. His intentions were never just to make money, but to have a cracking good time outdoors with family and friends.
A funny thing happened, as word of mouth took off and everyone wanted in on the fun., the demand created a thriving small business for Dave which he built upon.
But if you ask Dave today, his step-by-step methodical path to success was something that just happened while "he was having some fun." It is the Mammoth Lakes Foundation, an educational juggernaut dedicated to keeping the locals viably employed in the immediate area and helping their children succeed that has his heart and occupies his time now.
A father of six, with great-grand kids close by, Dave and his wife Roma didn't always have it easy. They started out with modest means, but their hard work and ability to live off the land in a sustainable way – hunting, fishing and gardening – kept food on the table as Dave built a mountain resort from scratch.
It was that time, in 1938, that Dave used parts from a Model A to build the first tow-rope for skiers in the Mammoth area. He refined it and invented all sorts of mechanized pulls and systems to get skiers up that big hill. Dave then convinced United Tramway, a company based in San Francisco, to provide him a chairlift despite not having any collateral. Dave assured the owners he was good for his debt. Over the next sixty years, McCoy presided over skiing in the Eastern Sierra. All of this done without formal engineering or business training, as he grew Mammoth Mountain into one of America's premier ski resorts.
Blessed with a lifetime of good health, Dave continues to be actively involved in the Mammoth community, overseeing the Mammoth Lakes Foundation. The Mammoth Lakes Foundation was established by Dave in 1989 to fulfill his dream of bringing higher education to the Eastern Sierra.  It is education that opens doors and creates possibilities for people, and McCoy's dream for all the people who live and work in Mammoth to achieve and be afforded opportunities.
To know Dave is to understand a true American sportsman and rugged individualist archetype. He and his wife Roma were, and still are photogenic, and their California good looks and healthy lifestyle did not go unnoticed.
Dave writes of an ad he posed for for 76 gasoline:
Here's one that gets a lot of interest and it has a great story. I shot this in the 1960s in an ad for 76 with a photographer named Ray Peterson. I had a vintage Perrine automatic reel on that fly rod. It's the kind of reel a man who values usefulness over appearance would use. In addition to commercial photography, Ray was a volunteer ski patroller at @mammothmountain and he set this up with an East Coast ad agency called Young & Rubicam. Ray was given the opportunity to shoot this and knew just where to go. We shot this on the San Joaquin River by Red's Meadow and the ad was displayed in a national campaign.
Despite the fact he is about to celebrate his 100th birthday, Dave is still as rugged as the mountain that he loves, traversing the Eastern Sierra on one of the Rhinos (side-by-side all-terrain vehicles) that he helped design.  Dave McCoy is still active and going strong today. He is an avid photographer whose images of the Eastern Sierra have hung in galleries in the area. Proceeds from the sale of Dave's photos go to the Mammoth Lakes Foundation. The terroir of the Sierras is his muse and home that he celebrates, writing:
Last weekend we were cruising around the valley in the Rhino and spotted a rattlesnake in the sagebrush. We carefully approached it and realized we didn't need to worry about getting bitten, because the snake already had something in its mouth. We pulled in a little bit closer to see that he had a horned lizard (horny toad) in his jaws and was working on getting it down. I've never seen anything like it before.
Because of Dave's dedication to the Mammoth Lakes Foundation - this year, nearly 40 percent of Mammoth High School's graduating class is expected to attend Cerro Coso Community College's Mammoth campus in the fall.  Mammoth Lakes Foundation ensured that Cerro Coso Community College students have the option to live in Mammoth and get their associates degree, vocational certificates or credits for transfer.  These graduates are eligible for a full scholarship–tuition and $300 per semester toward textbooks–from the Foundation. This is fruit of McCoy's labor realized.
There's a celebratory event coming up in Mammoth where you can learn more about Dave, the Mammoth Lakes Foundation and have a fantastic time enjoying the food, wine and great scenery of Mammoth mountain.  Anyone who loves Mammoth for skiing, golf, hiking and vacationing there are invited to the Mammoth Food & Wine Experience to support the Educational Foundation, which honors Dave McCoy's 99th year with $99 Grand Tasting ticket.
The Mammoth Food & Wine Experience, presented by Honda and scheduled for June 26 and 27, announced this week it would honor Dave McCoy's 99th year by offering tickets to the Saturday Grand Tasting for only $99.
Adjacent to the Mammoth Campus of Cerro Coso Community College, the Grand Tasting event on Saturday, June 27, takes place outdoors in the Edison Pavilion.
Nearly 20 wineries will pour tastings of over 100 exceptional wines while local Mammoth Lakes fine-dining restaurants and chefs present a "Best Dish" for attendees to enjoy, hoping to win the award for people's choice, voted on by all attendees.
Live entertainment this year includes a Celebrity Chef Battle where two teams consisting of four chefs (one pair from Mammoth, the other from Los Angeles) compete on stage. They will be given a mystery basket for the main ingredients augmented by a common pantry of staple items.
Each team will have 25 minutes to create their most spectacular dish to be judged by a panel of experts who will determine a winner based on taste, creativity, and presentation.
Saturday evening culminates with a live auction where attendees can bid on several enticing auction items ranging from a collection of wines poured at the Grand Tasting (over 100 bottles!) to vacation trips sure to be on everyone's bucket list.
The popular Friday night Wine Walk returns on June 26 at the Village at Mammoth as 15 wineries present tastings of over 50 wines. Tickets are $45 ($50 at the door) and include a complimentary wine glass, palate cleansers, silent auction, and live entertainment.
Original Post - http://www.monstersandcritics.com/mammoth-food-wine-experience-dave-mccoys-celebration-in-june-details/