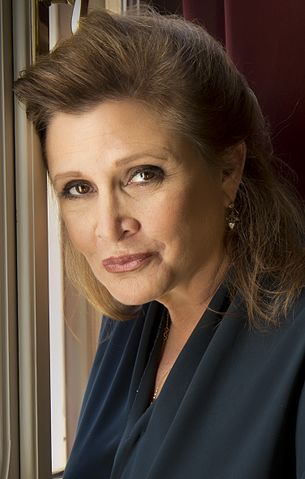 As the world mourns the death of actress Carrie Fisher, more light has been shed on the final weeks of her life.
It was a whirlwind of travel for the 60-year-old actress as she crisscrossed Europe, from France to Belgium to Italy, to promote her new memoir, The Princess Diarist, and every moment was documented on Twitter.
She tweeted a photo on Thanksgiving with her and her dog in a hotel room. Behind her there appears to be two bottles of beer – a Corona Light and Amstel Light – leading many to raise cause for concern that the star who famously and publicly battled addiction and alcoholism had relapsed.
Fisher had been candid about her struggles with bi-polar disorder, drugs and alcohol in her books, 2009's Wishful Drinking and her recent memoir. She also wrote the semi-autobiographical book, Postcards From the Edge in 1987, which is about a woman struggling to put her life back together following an overdose.
Postcards From the Edge was later adapted into a film starring Meryl Streep.
Dr. Howard Samuels, CEO of The Hills Treatment Center, treated Fisher 20 years ago when she tried to get sober.
"In the photo, what looks like two beer bottles that is very disturbing, very sad, if that is the case. We don't know if that is the case or not," he told Inside Edition. "I must say, relapse is a part of recovery."
Her last TV appearance was on Britain's beloved Graham Norton Show just two weeks ago while she was promoting The Princess Diarist.
On the talk show, she discussed once being a sex symbol, her book and her affair with Harrison Ford.
The Star Wars actress flew from London to Los Angeles two days before Christmas and as the plane landed, she suffered a heart attack and reportedly stopped breathing for ten minutes on the plane.
Dr. Stephen Reisman, director of the New York Cardiac Diagnostic Center, told Inside Edition: "The 10 minutes that she was unresponsive were critically important — it is above the period of time we consider good to have a successful resuscitation."
The 'Burbs star was rushed from the airport to UCLA Medical Center in Los Angeles where she remained in intensive care, but doctors were unable to save her.