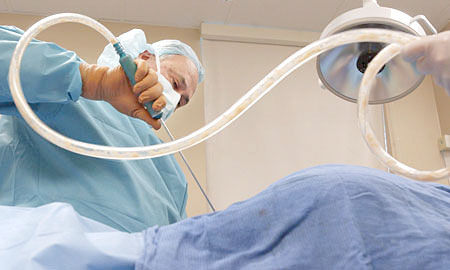 Stand-up comedian Monique Marvez has a 28-inch waist and favors skin-tight size-8 gowns, both for her "clean comedy" corporate events and somewhat racier appearances on the Showtime series "Snoop Dogg's Bad Girls of Comedy."
And with the Emmys coming up earlier this fall, the 50-year-old Los Angeles resident decided it was time to get in tip-top shape. That meant hiring a plastic surgeon to quickly tone her tummy.
But Marvez, who had avoided liposuction in the past, didn't want to go under the knife. Instead, she had Century City surgeon Dr. Peter Fodor smooth out her stomach with an experimental, noninvasive treatment that involves ultrasound, a painless technology better associated with pregnancy.
"I'm a big believer in doing every kind of peel, filler or plumper that you can before you let somebody take a knife to you," Marvez said. "And this worked surprisingly well with no down time."
Fodor sculpted the comedian's stomach with a treatment called Vaser Shape, a new technology in an industry that is increasingly offering less-invasive procedures. Rather than sucking the fat out, Vaser Shape uses ultrasound technology to break down cells, which are carried away by the body's circulatory system.
The procedure, first developed a few years ago by Louisville, Colo.'s Sound Surgical Technologies Inc., is undergoing a clinical trial being led by Fodor. And if it does not turn up unexpected negative side effects, Vaser Shape and procedures like it could make so-called body sculpting as easy as dropping by the doctor's office after work for a quick Botox injection.
While traditional liposuction still offers some advantages, Vaser Shape's backers believe it could be a breakthrough because it is noninvasive, safer and can be less expensive.
"There really is nothing as magical as liposuction because you can sculpt with a lot of precision, but (Vaser Shape's) noninvasive ultrasound is very exciting, particularly for localized areas of fat," Fodor said.
Popular procedures
Liposuction is the third most commonly performed cosmetic procedure in the United States, behind only breast augmentation and nose reshaping. In 2010, more than 203,000 lipo procedures were performed, 2 percent more than a year earlier, according to the National Research Center for Women & Families.
In traditional liposuction, a small tube attached to a vacuum is inserted through an incision in the target area. The surgeon pushes and pulls it in a forward-and-backward motion to break up fat cells and draw them out by suction. It's an uncomfortable procedure that leads to pain and bruising, and requires weeks of recovery.
Though fatalities are rare, a handful of high-profile cases – such as the 2007 death of rapper Kanye West's mother – has fueled interest in less invasive alternatives.
With Vaser Shape, a doctor or technician uses a patented heated ultrasound paddle that massages the targeted body part, which is coated with a gel to help conduct the sound waves. No incisions are needed. After the ultrasound ruptures the fat cell walls, the area is massaged by hand to further release fat from the cells and stimulate nearby lymph nodes, which help trap and remove dead cells, bacteria and toxins instead of inserting a tube to suck out the liquefied fat.
"It felt like being ironed at a low setting," Marvez said.
Each session takes only a few hours, and one area of the body could take as many as five sessions. The sessions must be split up because the body can only process so much liquefied fat at one time. Recovery typically takes a few days, significantly shorter compared with a month or more for traditional lipo.
Vaser Shape does not require anesthesia, which makes the procedure safer and allows a trained technician to perform it rather than a surgeon.
It also means the procedure can be less expensive than lipo, which can cost up to $30,000 for extensive work. Vaser Shape, by comparison, costs about $3,000 for an area about the size of a sheet of paper.
New alternatives
Vaser Shape is competing with a number of new lipo alternatives.
The newer technologies use smaller incisions and employ laser, ultrasound, radio wave and even freezing to break up the cells before suctioning. The various methods these days are marketed as brands – with names such as LipoSonix, Zeltiq and CoolLipo – promising less pain and faster healing times.
Many of the procedures still require incisions and suction, while Vaser Shape is noninvasive.
Still, Elise Minton, an editor at NewBeauty a consumer magazine in Boca Raton, Fla., that tracks the aesthetics industry, noted that the memorable names and trendy procedures are competing aggressively for consumers' attention. She said that as with name-brand anti-aging treatments such as Botox, direct-to-consumer marketing has become key to building interest in a procedure.
"The companies have to work hard to get the attention of the most-respected surgeons, and attention of patients to get them to come in their offices asking for a certain branded procedure they've read about," Minton said. "Even so, there really are only so many ways to skin a cat, and maybe only minor differences among many branded lipo procedures."