Dancing Moon Coffee Jamaica Blue Mountain®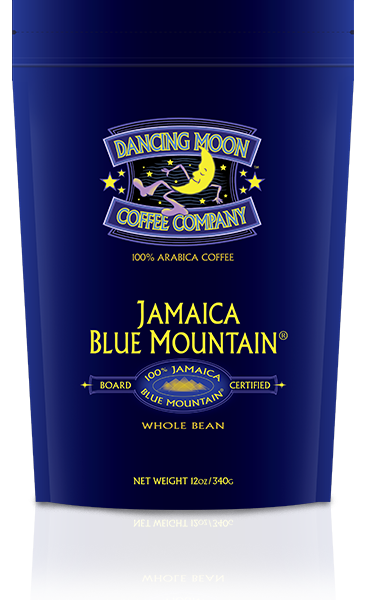 This is the brass ring of whole bean coffee. The freshness, flavor, and aroma will send any coffee lover to the moon, so they aptly named themselves Dancing Moon I suppose! Jamaica Blue Mountain® by Dancing Moon is certified by the Coffee Industry Board of Jamaica, authentic Jamaica Blue Mountain® must be grown in legally designated growing areas high in the Blue Mountains of eastern Jamaica. Dancing Moon is authentic unblended 100% Jamaica Blue Mountain®. This is one of the richest and smoothest coffees you've ever tasted. There's nothing else like it in all the world.
According to Dancing Moon founders Jamie Weldon, this special coffee costs a bit more but if you truly love java, live a little and splurge. There is a superior richness with a chocolate and toffee underscore to this beautifully cultivated bean and cuppa.
The Dancing Moon execs previously shared their other roasts with us along with great tips for brewing and grinding coffee properly. There's also some history on this Jamaican varietal that Jamie shared, as the coffee plants in Jamaica descended from a single seedling brought to Martinique by French naval officer turned Jamaican governor, Sir Nicholas Lawes. He purchased descendants of that seedling, bringing coffee to Jamaica in 1725. The climate is what makes this coffee so special, taking the coffee bean twice as long to mature than anywhere else.
One of the admirable things this company does is kick back a portion of sales to theSemper Fi fund, which takes care of veterans' families in need. Raise your coffee cup and drink the very best, knowing you did a good thing.
Dancing Moon Coffee roasts to order and is found on Amazon, but hopefully, we will see it in Albertsons, HEB or Whole Foods soon!
Excerpt. Read full article from Original Source