Brian McCarty was stunned to find that the terrorist group striking fear across the world were using one of his shots in their publicity material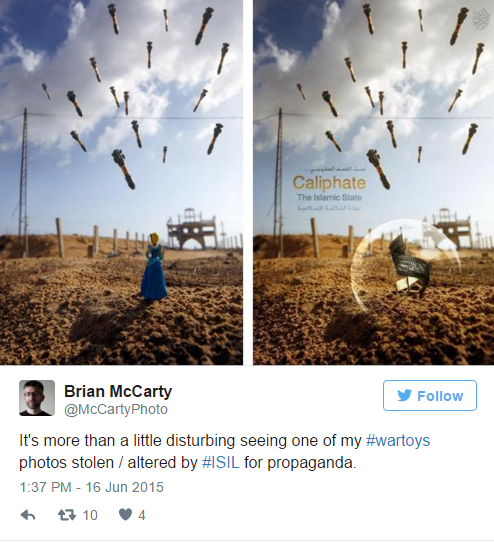 A photographer has spoken 
about ISIS stealing one of his images
 - and using it in their propaganda material.The terrorist group used one of Brian McCarty's pictures to spread the word of their self-proclaimed Caliphate.The image, which McCarty calls 'Gaza Cinderella', shows a toy princess with what look like missiles soaring overhead.
It's captioned: "I can only imagine the fear that the children are experiencing now. Entire generations continue to be traumatised."
It's part of his War Toys project which, his website explains, "seeks to explore war from the perspective of children living in its day-to-day reality."
Read more: ISIS releases astonishing pictures of its fairgrounds in Iraq and Syria
"In practice, boys and girls who been affected by conflict become art directors for my photographs of locally found toys, placed and posed in actual locations to recreate shared fears and witness events," the West Hollywood resident added.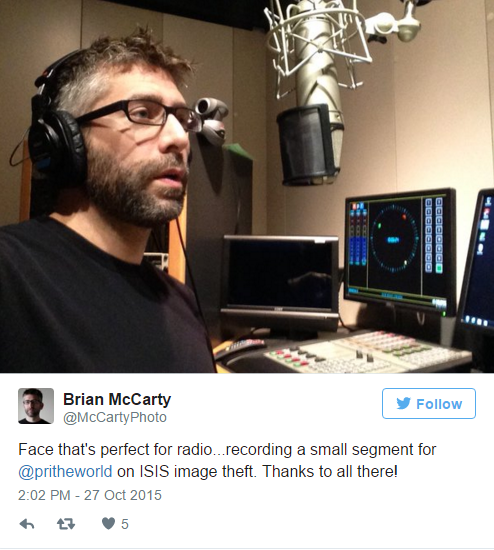 Posted on the photographer's Instagram feed in July 2014 , the Cinderella shot was at some point appropriated by ISIS, and McCarty is now faced with having his work, intended to offer the horrific encounters of children living under threat of violence, being used to promote them.
Their use of McCarty's image first came to his attention when they posted it on Twitter, with no credit, and the caption: "Crusaders under bombardment".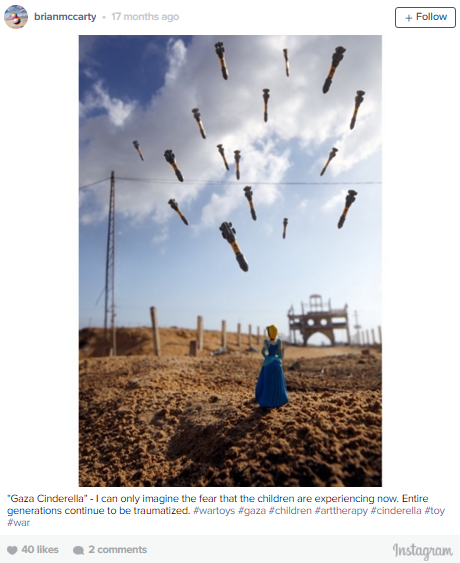 In their version, the Cinderella figure has been replaced by the familiar black and white ISIS flag.
McCarty tweeted the doctored image beside his own on June 16 this year, with the caption: "It's more than a little disturbing seeing one of my #wartoys photos stolen/altered by #ISIL for propaganda."
McCarty approached Pixsy, an organisation which seeks to give photographers back the right over their work in situations like this.
They explain that they sent take-down notices to the offending Twitter accounts – which were heeded by the social network.

The site has suggested three ways to support the photographer in lieu of compensation - donating to War Toys , buying his book and following him on Twitter