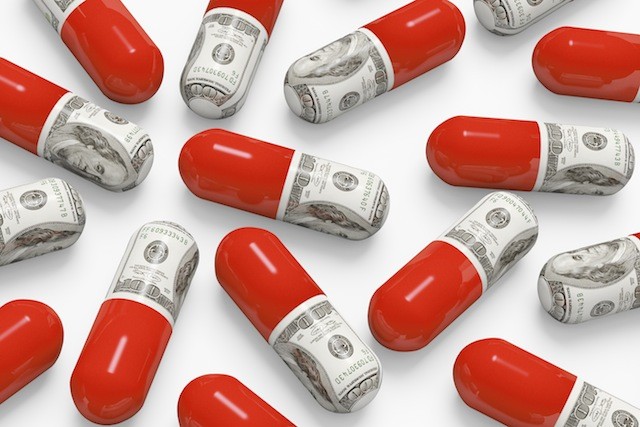 IF YOU'RE CUTTING BACK ON A PRESCRIPTION DRUG (OR GOING WITHOUT YOUR MEDS ALTOGETHER) BEWARE: YOU'RE SETTING YOURSELF UP FOR BIGGER HEALTH PROBLEMS LATER.
Rachel Orr, head of services for disabled students at a college in the northeastern U.S., recently had a weekend from hell: She saw four upper-class students in a community hospital psychiatric ward for extreme agitation. It was exam time, so it was no surprise to Orr that the students felt overwhelming anxiety.
But then she found out that two of them hadn't filled recent prescriptions for antidepressant drugs that campus doctors had prescribed. The students' parents didn't have insurance, and the students had neither dependent coverage nor their own policies to help cover the cost of drugs. The physicians hadn't thought to ask the students if cost was an issue. And when the students found out what the drugs would cost, they told the pharmacy not to bother filling their order.
Orr was so shocked by that experience that she's asked campus doctors and nurses to ask students whether they can afford their medication or pharmacy co-pay when a prescription is issued.
A new study from the Centers for Disease Control and Prevention (CDC) finds that not having enough money to pay for prescriptions is nothing new for many U.S. adults, especially those under 65, who are not covered by Medicare. The CDC's new data show that younger adults are trying all sorts of things to keep the cost of prescription drugs down: 12.6 percent didn't take the medication as their doctor prescribed it; almost 20 percent asked their doctor for a less expensive drug; 6 percent tried alternative therapies; and 2 percent bought prescription drugs from another country.
Not surprisingly, uninsured adults were a lot more likely to have skipped doses of their meds; taken less of the medicine; delayed filling a prescription; or simply not taken the drug as their doctor instructed, as ways to save money. Almost one-quarter of uninsured adults failed to take a drug as it had been prescribed. Young people ages 19 to 34 are particularly likely to go without health insurance, according to the Department of Health and Human Services–almost 28 percent have no health insurance, though that figure is an improvement: Obamacare has allowed adults under 26 to stay on their parents' plan, resulting in more young Americans getting coverage.
Those tactics save money, sure, but like Orr's experience with the students who got no treatment for their anxiety and depression, the fallout can be serious: Adults who don't take their medicine as prescribed have been shown to have poorer health status than those who do, and are more likely to end up in the hospital or ER, and to have heart problems.
"I find that sometimes patients are embarrassed to tell me that they cannot afford their medication," says Damon Raskin, M.D., an internist in Pacific Palisades, California. "I don't find out about it until future visits when they're still suffering from the same ailments or their conditions aren't improving." Raskin admits, though, that he doesn't always ask patients if they can afford their meds: "I usually wait for them to bring up the issue," he says. "It is generally the younger 20-somethings and much older patients that can't afford their medications. They are the ones who oftentimes have to choose between medication and other necessary expenses, like rent and food. I'll recommend they use the generic meds whenever possible."
There is help from some drug companies for people who meet a threshold for income, as Dana Simpler, M.D., a primary care practitioner in Baltimore, Maryland, explains to some of her patients. "I use it frequently in my office," says Dr. Simpler. "It is only for brand-name drugs [and not generics] and requires a moderate amount of paperwork and must be done through the doctor's office. In fact, the medicine is often shipped to my office where the patient can pick it up." But, adds Dr. Simpler, there are many inexpensive, generic drugs for almost all common diseases; these can be tried before the expensive ones. If patients are upfront with their doctors about their struggles to afford medication physicians can try several avenues to help them choose an affordable drug, or find a way to cover costs for expensive ones.
Many resources for affordable drugs will require your doctor's office to complete paperwork and most will need proof that your income is low enough to qualify, such as tax returns. Here are some other resources to consider:
· Community health centers may offer prescription assistance to low-income patients. To locate a center in your area, contact the Health Resources and Services Administration at 888-ASK-HRSA (888-275-4772).
· Try www.rxassist.org, which lists drug assistance programs by state, or search www.needymeds.com, which lists drug company assistance programs as well as discount cards for many medications that can take up to 30 percent off the cost. Patients don't always have to show financial records to get the discount cards.
· Many drug companies offer discounts–some up to half off–on brand-name drugs through a coupon program. Most common is one for the first month's prescription free, and then often a sizeable discount on monthly prescriptions thereafter. Type in the brand name of the drug you've been prescribed to see if there's a current offer, or check InternetDrugCoupons.com, which is maintained by a pharmacy drug representative who updates the site frequently.