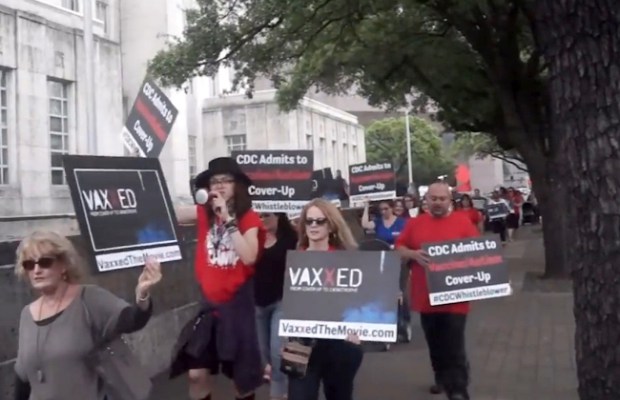 When the call came from the heads of the Tribeca Film Festival, specifically co-founder Jane Rosenthal and Tribeca Enterprises' Executive Vice President Paula Weinstein, to let my head of distribution, Rich Castro, and me know that they had decided to "de-select" our film Vaxxed: From Cover-up to Catastrophe, I didn't want to believe it.
I couldn't understand how it could even be possible–when the selection had been confirmed publicly by Tribeca co-founder Robert De Niro himself the day before.
Being the distributor of the film and having received all the paperwork confirming the selection, I was in total disbelief, as I had personally advised the filmmakers to submit the film to Tribeca.
The conversation became very heated when I asked the festival executives for the reasons. The answer I received was that they had "issues" with the content of the film. I said, "Fine–let us know what issues you are having and we will give you all the back-up documentation and set you up with the filmmakers so that you can get any clarification you need." But I got no specific answers.
It was clear that the actual content of the film (a documentary by Andrew Wakefield about Dr. William Thompson, a senior scientist at Centers for Disease Control and Prevention who believes that crucial information was omitted in a 2004 report on the Measles-Mumps-Rubella [MMR] vaccine and its link to autism) was not the full cause of the festival's change of heart. They had already indicated in a previous conversation that their sponsor had issues with the film–specifically, the Alfred P. Sloan Foundation. It became even more heated when I asked Rosenthal and Weinstein, both highly accomplished professionals, if they realized the responsibility they were assuming and the message it would send to the filmmaking world at large. They were effectively telling the festival's sponsors that it was perfectly OK to censor a film they didn't like. They were also telling filmmakers around the world that they should only make movies that corporate powers and sponsors alike will approve of, otherwise they will have little chance to ever have their movies seen. I told them they were setting a huge precedent, but it was clear that they could not have cared less.
Unfortunately, I was proven right. A few days later, Hunter Todd, director of WorldFest-Houston International Film Festival, which had selected the film for its documentary closing night, sent me an email saying that his festival also had to withdraw its invitation. Hunter added that he had received "very threatening calls yesterday from high government officials in Houston (the first and only time they have ever called in 49 years)… Heavy-handed censorship to say the least… they both threatened severe action against the festival if we showed it… Their actions would have cost us more than $100,000 in grants." In another email, he said that "[the officials] went to all our major sponsors… and even the private foundations that support us… I have never been threatened so strongly before, comparing this to Hitler's propaganda films and worse…"
"Hitler's propaganda films?" I thought that was interesting! I'll come back to that later. I was not as upset with Hunter, who did what he could, had no choice and told us the truth. It is a totally different situation with Tribeca. To this point–even after Robert De Niro himself reversed his stance and said in a TODAY interview that it is a movie that people should see and that he pretty much regretted having been forced to pull if from the festival–Jane Rosenthal continues to argue that in fact Vaxxed's "de-selection" was due to an outcry from some filmmakers.
The filmmakers? Seriously? Well, that's even a worse excuse than claiming it's because of the sponsors. Everybody understands the power of money, but she is trying to make us believe that if filmmakers disagree with the film selection at a festival like Tribeca, that the festival will reverse its decision. I see that as the end of festivals as we know them and, of course, the end of free speech! That is censorship, pure and simple!