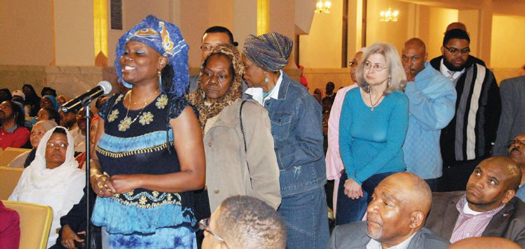 CHICAGO–Tears streamed down the cheeks of Maisha Muhammad as she spoke of her son Elijah, who started to exhibit signs of autism around his second birthday.
The infant had been doing so well, she told an audience May 7 at Mosque Maryam at the National Center, headquarters of the Nation of Islam. He had started walking at six months. The closer he got to two years of age he stopped responding to his name, she said haltingly. He stopped trying to talk. He would lay in his crib silent for hours.

"He was a shell of the beautiful child I once adored. This has been my reality for the last 16 years," she sobbed. "I have been looking for answers all of this time."
Mothers and fathers like Maisha found answers on this cool night on the South Side of Chicago. They had come to the mosque to view a controversial documentary, "Vaxxed: From Cover-Up to Catastrophe," which examines the link between the development of autism in infants who receive the Mumps, Measles and Rubella (MMR) vaccine during the prescribed 12 to 18 months of age. The significant thing that happened to Elijah prior to his second birthday is he received the MMR vaccine.
The film has caused tremors in the medical community, particularly since it documents an alleged cover-up of evidence that Black boys who receive the vaccine at the prescribed age developed autism at an alarming rate.