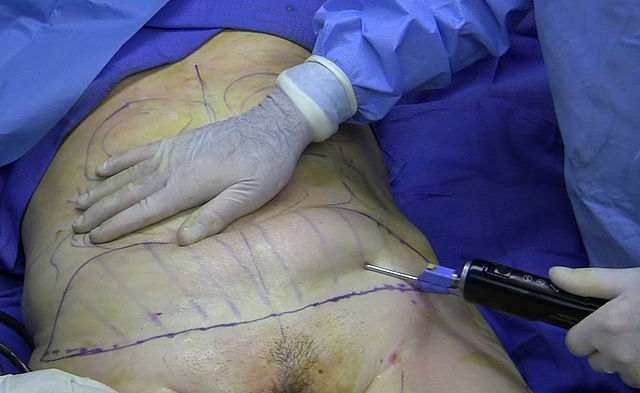 Surgical tech Bruce McCauley collects syringes of fat to be injected into a patient's breasts. (Helen H. Richardson, The Denver Post)
It's a pretty common desire, in a facetious, never-gonna-happen-but-gals- can-dream kind of way: Couldn't someone just transfer the fat from a woman's butt and put it in her breasts?
Well, they can.
The cutting edge in plastic surgery involves sucking fat out of the backside and injecting it into a woman's chest.
Still controversial, the fat transfers are beginning to be offered by a few cosmetic surgeons as an alternative to breast implants made of silicon gel or saline, especially for patients already planning on liposuction.
A recent American Society of Plastic Surgeons report eased concerns that new fat deposits in the breast would impede radiology scans meant to detect cancerous tumors. Still, the organization tells doctors trying the new technique to "proceed with caution."
Among the pioneers is a Lone Tree plastic surgery office that specializes in breast augmentation and "lipo-sculpting" — crafting six-pack abs and "high- def butts" by strategically removing fat. Dr. John Millard was taking fat from a woman's love handles and using it to plump up her hands last week as business partner Dr. David Broadway transferred fat into another woman's breasts.
Sherri Frie, a 43-year-old mother of two from Englewood, originally wanted a tummy tuck.
But when Dr. Broadway began pinching fat around her butt, back and sides, telling her he could put it in her chest, Frie was sold.
"I've always joked about that with girlfriends," she said.
The transformation cost her $22,000 and, five days later, Frie said it was worth it.
"I just look amazing," she said. "I have a bubble-butt now. When I looked at myself in the mirror, I was like, 'And oh yeah, I have boobs!' "
Risk undetermined
Broadway used an oscillating metal rod, called a Vaser, to break up the fat above Frie's buttocks and in her love handles. Then he sucked it out through a plastic tube, where an assistant collected it in dozens of syringes.
After Frie was flipped over, Broadway removed more fat from above and beside her breasts and from her armpits to her hips.
"She's going to look like an athlete when we get done," he said.
Part of the surgery's appeal is that it uses a natural, organic part of a woman's body and not a foreign object. Still, the risks are undetermined.
"Because so little of it has been done, we don't have a lot of data," said Dr. Karol Gutow ski, a Chicago plastic surgeon and head of the American Society of Plastic Surgeons task force that investigated the technique.
Most plastic surgeons aren't doing the procedure, instead waiting on results of long-term studies, Gutowski said. A key question is how long bigger breasts will last — will the fat melt away if the woman loses weight? Will it die and form calcified lumps?
It's already clear that fat-transfer surgery doesn't have the volume potential of implants.
"You can't go from an A cup to a D cup, but you could go from an A to a B cup or potentially a B to a C cup," said Gutowski, who is looking for patients to participate in a study.
Also, the surgery won't work for a 120-pound woman with not much extra fat, he said.
Frie's breasts grew about a cup size as she lay on the operating table. Broadway injected each of her breasts with about 400 cubic centimeters of fat, the equivalent of about a dozen large syringes.
Implants holding 400 cubic centimeters of saline or silicon gel would have resulted in much bigger cleavage, though.
Enhancing what's there
The recession hit plastic surgery in 2008, with surgical procedures down about 9 percent. Still, 307,000 Americans got breast augmentation, 279,000 had nose jobs and 245,000 got liposuction, according to the American Society of Plastic Surgeons.
Some argue societal acceptance of plastic surgery is advancing faster than medical ethics and safety.
Critics focus too much on the psychological makeup of people who have their fat sucked or eyelids pulled back or their tummy tucked, said Dr. Victoria Pitts-Taylor, author of "Surgery Junkies" and a sociology professor at Queens College at the City University of New York.
"We let the industry off the hook," she said. "To me, that is kind of misplacing the blame. We ought to probably follow the money — how the industry is conducting itself."
Broadway said the surgery is safe and brushed off critics who are judgmental about plastic surgery.
"It's been going on since the beginning of time," he said. "We've always tried to enhance what we have, to improve ourselves. Some of the first people to criticize cosmetic surgery are the first to line up to get their kids orthodontics, to get the hair colored, to get their eyebrows waxed."
Maria Wilson, who got a "mommy makeover" from Dr. Broadway five years ago, said her body needed a boost after pregnancy. Wilson had a breast augmentation, then liposuction on her stomach and love handles.
Now the 47-year-old wears bikinis.
"All of a sudden now I have a flat tummy," said Wilson, who says the surgeries motivated her to work out harder. "My buttocks has a rounder shape — it's prettier."
For Frie, it was seeing a picture of herself taken from behind while she was in Mexico last April that persuaded her to get the surgery. She said she realizes "$22,000 would have gotten me a lot of time with a physical therapist," but even hours at the gym — hard to find for a working mom — likely wouldn't have produced the same results.
Before surgery, the 5-foot-4 Frie weighed about 140 and wanted to lose 15 pounds. She plans to return to Dr. Broadway for tummy liposuction because he ran out of time for that last week, but then, Frie insists, she's finished.
"This is not the beginning of a plastic-surgery junkie," she said. "I'm not that vain. But I wanted the fat taken away."