Last night's Chinese inspire Met Gala 2015 was all about the one-upmanship of everyone's gown. The unifying theme? Big badonks are still the focus, forget the boobs.
Monday night's Met Gala (aka the Super Bowl of fashion) which celebrated the museum's "China: Through the Looking Glass" exhibition, was ostensibly to celebrate the culture of the Chinese people and their impressive history.  But leave it to the Hollywood celebrities who put their "bottom" lines, China doll purses and best efforts at winged eyeliner on the red carpet.
Fashionista's Fawnia Soo Hoo made us laugh with her admonishing of Lady Gaga, who decided to use a big net, fashion-wise, for this Chinese themed event:
Lady Gaga's custom Balenciaga looks like a hybrid of a Japanese kimono and Korean hanbok, albeit with a much lower neckline….Everyone from the New York Times to The Hollywood Reporter is casually lauding Gaga's "kimono"-style dress, even though, again, China-themed event.
Dr. Constantino Mendieta, Miami's most popular plastic surgeon who specializes in Brazilian Butt Lifts (he actually wrote the book on buttock plastic surgery "The Art Of Gluteal Sculpting") shared with us his thoughts on some of the dramatic looks as witnessed below: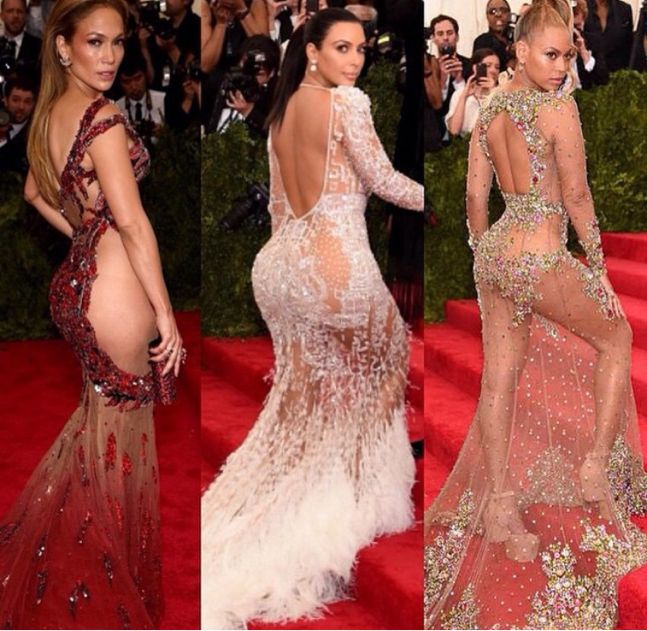 "I think the best accessory of the gala was brought by J.Lo, Kim Kardashian and Beyonce. They looked amazing…. this just proves that 2015 is still the year of the big beautiful booty. The booty was last night's red carpet showstopper. I guarantee I will have hundreds of women coming into my office over the next few weeks with these pictures wanting to look just like these women. They are elegant while being sexy and curvaceous and feminine "
Original Post - http://www.monstersandcritics.com/sexy-stars-get-behind-chinese-inspired-met-gala-2015/